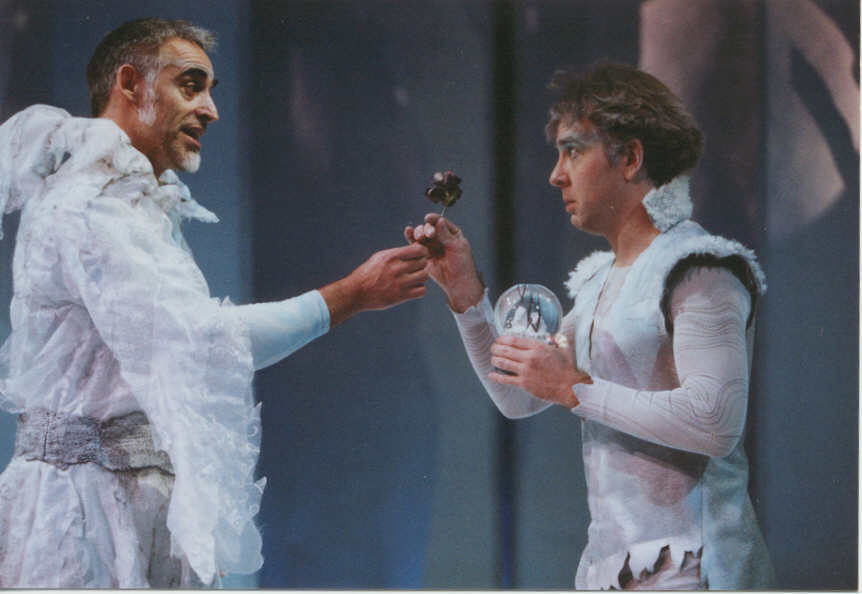 By William Shakespeare
Concept by Joseph Discher
Adapted by Joseph Discher & Bonnie J. Monte
Directed by Joseph Discher
Scenic Design by Charles T. Wittreich, Jr.
Lighting Design by Bill Berner
Costume Design by Frank Champa
Sound Design by Richard M. Dionne
Production Stage Manager - Gillian Duncan*
THE CAST
James Earley | Snug
Sharon Freedman | Sugarplum
John FitzGibbon* | Egeus, Peter Quince
David Foubert* | Francis Flute
Keisher Glymph | Flake
Kenneth Al-Shamir Hubbard | A Mortal Boy
Greg Jackson* | Puck, Philostrate
Roderick Lapid | Frostbite
Sabrina LeBeauf* | Titania, Hippolyta
Jay Leibowitz* | Tom Snout
James Michael Reilly* | Nick Bottom
Dawn Michelle | Snowpea
Mandy Olsen | Helena
Erin Lynlee Partin | Hermia
Larry Swansen* | Robin Starveling
Geoff Wilson* | Demetrius
Mark Elliot Wilson* | Theseus, Oberon
Jared Zeus* | Lysander
*member Actor's Equity
A Midwinter Night's Dream was born several years ago, when I was preparing to direct A Midsummer Night's Dream for New Jersey Shakespeare Festival's outreach program at Ridgedale Middle school in Florham Park with a cast of over forty students. (More fairies than you could count!) The performance was set for mid-December. That fact, along with my desire to incite excitement about creating a Shakespeare production, made me decide to change the title. We created a wintry world of frosted tree branches, a couple of fake fir trees and a curtain adorned with cut-out paper snowflakes. The cast was costumed in winter clothing and we changed only a bit of the text -- other than the cuts that are always made to get outreach productions down to an hour's length. The first Midwinter was basically an abridged Shakespeare play in winter coats! The audience found the production enchanting, and the transformation worked well on so many levels. Given the season, the kids were very connected to all the fun inspired by the winter concept; the adults identified with the simple beauty and nostalgic reality of the winter scenes; the story and the different character groups fit well into the new world (mortals susceptible to winter's cold and fairies who were not); and, most importantly, the concept created a new perspective on many aspects of a very familiar play without sublimating its style or Shakespeare's poetry.
When discussing ideas for the 2002 season, artistic director Bonnie J. Monte brought up the idea of doing a bona-fide adaptation of Midwinter, because she felt it would fit in well with the season's theme of The Grand Magic, provide a holiday show appropriate for the whole family, and fit the company's mission for innovative classic theatre. To our knowledge, no such adaptation has been done before. I was eager to continue exploring the play as it might exist in a "winter wonderland," and we began to create the adaptation. Delving into Shakespeare's text, we found the task of adapting the play to be both more difficult than we had thought on some levels and easier than we had imagined on others.
From the approximate 2,100 original lines in Shakespeare's text, less than 100 have been changed. Painstaking effort was taken to remain true to the meter of Shakespeare's verse as well as his intent, whether in a scene of poetry or prose. Our minimal changes, coupled with the world of deep midwinter, have suprisingly lent new life to a play that modern audiences know intimately. Even lines that haven't changed now take on new meanings. For example, when Lysander tells Hermia where they will rendezvous in order to elope, his description becomes one of a fond and distant memory now more keenly longed for:
'Steal forth thy father's house tomorrow night,
And in the wood, a league without the town,
Where I did meet thee once with Helena
To do observance to a morn of May...
A journey of "seven leagues" to the widow aunt's house is difficult enough in fair weather -- who would not wish for the "faint primrose beds" on which Helena and Hermia "were wont to lie"?
There was a good deal of text, however, that did demand adjustment if we were to "winterize" the play:
Shakespeare text
Tomorrow night, when Phoebe doth behold
Her silver visage in the wat'ry glass,
Decking with liquid pearl the bladed grass
Adapted text

Tomorrow night, when Phoebe doth behold
Her silver visage in the icy glass,
Decking with frosty pearl the frozen grass...
And Oberon's famous speech...
Shakespeare text
I know a bank where the wild thyme blows,
Where oxlips and the nodding violet grows
Quite over-canopied with luscious woodbine,
With sweet musk-roses and with eglantine.
There sleeps Titania, sometime of the night...
Adapted text
I know a bank where the winter wind sighs,
Where hellebore, the Christmas rose grows nigh,
Quite o'er-canopied with hanging beads of ice,
Where sprites sweet dreams with music do entice.
There sleeps Titania, sometime of the night...
...was particularly challenging. The fairies of Midwinter are winter fairies and are as connected to nature as Shakespeare's originals. Ironically, the fairies of Midwinter are not affected by the cold as much as they are part of it, but their scenes were most affected, both textually and conceptually.
A Midsummer Night's Dream may be Shakespeare's most popular play, or at least the most often performed, and perhaps our intimate familiarity is what made us ready for a new perspective. People reacted with great excitement about the idea of a new look at the play, making the adaptation seem increasingly appropriate. Inevitably, however, the question would arise, "How are you going to deal with all the summer references? It's A MidSUMMER Night's Dream." Some of my answers have been shown above, but the best answer is to say that this is not a play about summer, nor does its story rely on that season for relevance. The summer is a vehicle for the passionate madness that ensues throughout the play, but it is easily translated to another time of year associated with revelry, folly and misrule -- and Twelfth Night, or the feast of the Epiphany, fits the bill. Indeed, many of the characters in Midwinter have their own epiphanies. But most importantly, beyond any season, time or place, this is a play about the mysterious and transformative power of love, as well as it's near magical qualities. Helena says it best:
Things base and vile holding no quantity,
Love can transpose to form and dignity.
In preparing to direct the production, I wanted to take the world of the play to another level as we did with the adaptation -- to create a world that worked more symbolically in tandem with the play, and accentuated the magical aspect of love-sight and the fairy world in winter. The collision of the fairy and mortal worlds is a catalyst for the extraordinary transformations in the play, and calls for something to bridge both worlds.
The first image that came to my mind was a snow globe. The small, perfect world enclosed in a ball of fragile glass, which we can observe as a world within a world, like a tiny theatre, was a perfect starting point. This magical microcosm became a metaphor for the production, taking its cue from the play-within-a-play qualities apparent long before the artisans' performance of Pyramus and Thisbee.
The worlds inside snow globes are peaceful and appealing, yet we like to shake them up. Their charm is that they are meant to be agitated and watched as the snow settles, to be stirred up into a flurry of seemingly magical activity that slowly turns into a still calm. I found their crystal ball-like qualities compelling and envisioned them as having magical powers. To the mortals they seem magical -- but to the fairies they are magical, even used as talismans.
Whether the magic of this winter world emanates from text, concept or performance, much of it originates where love does -- in our hearts and minds and the exuberant playfulness and fond imagination with which we experience the transformations of winter, whether riding on a sled, having a snowball fight, or listening to the snow fall on a quiet evening.
When first working on the play I sometimes thought, "Who am I to change Shakespeare?" But, as Puck tells us at the end of the play, we should think of it all as just a dream. And dreams can take you anywhere.