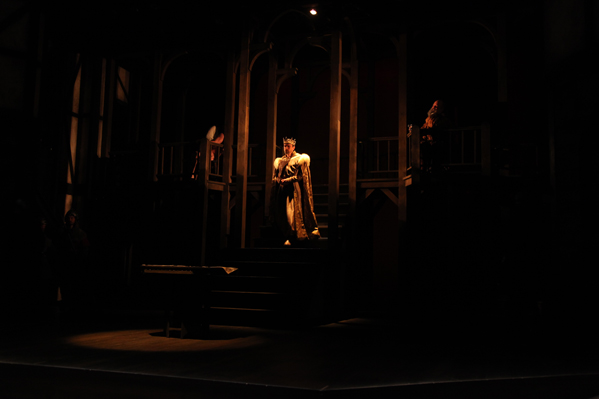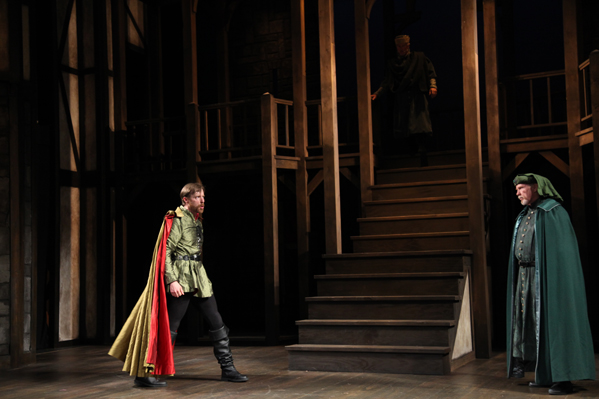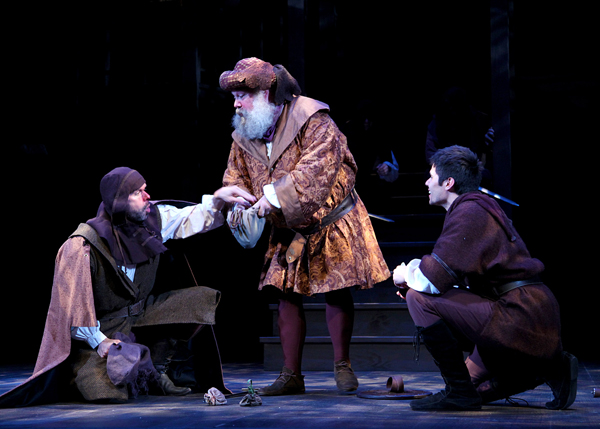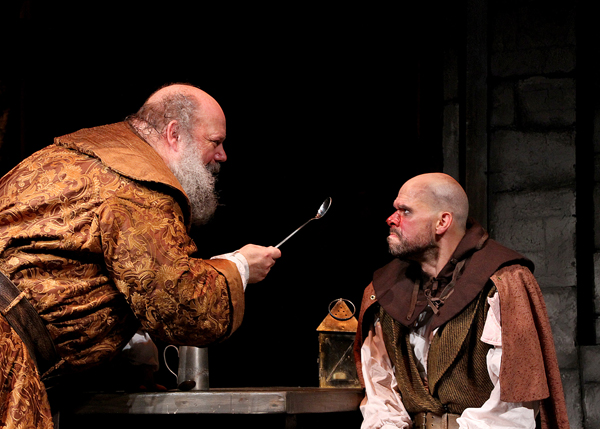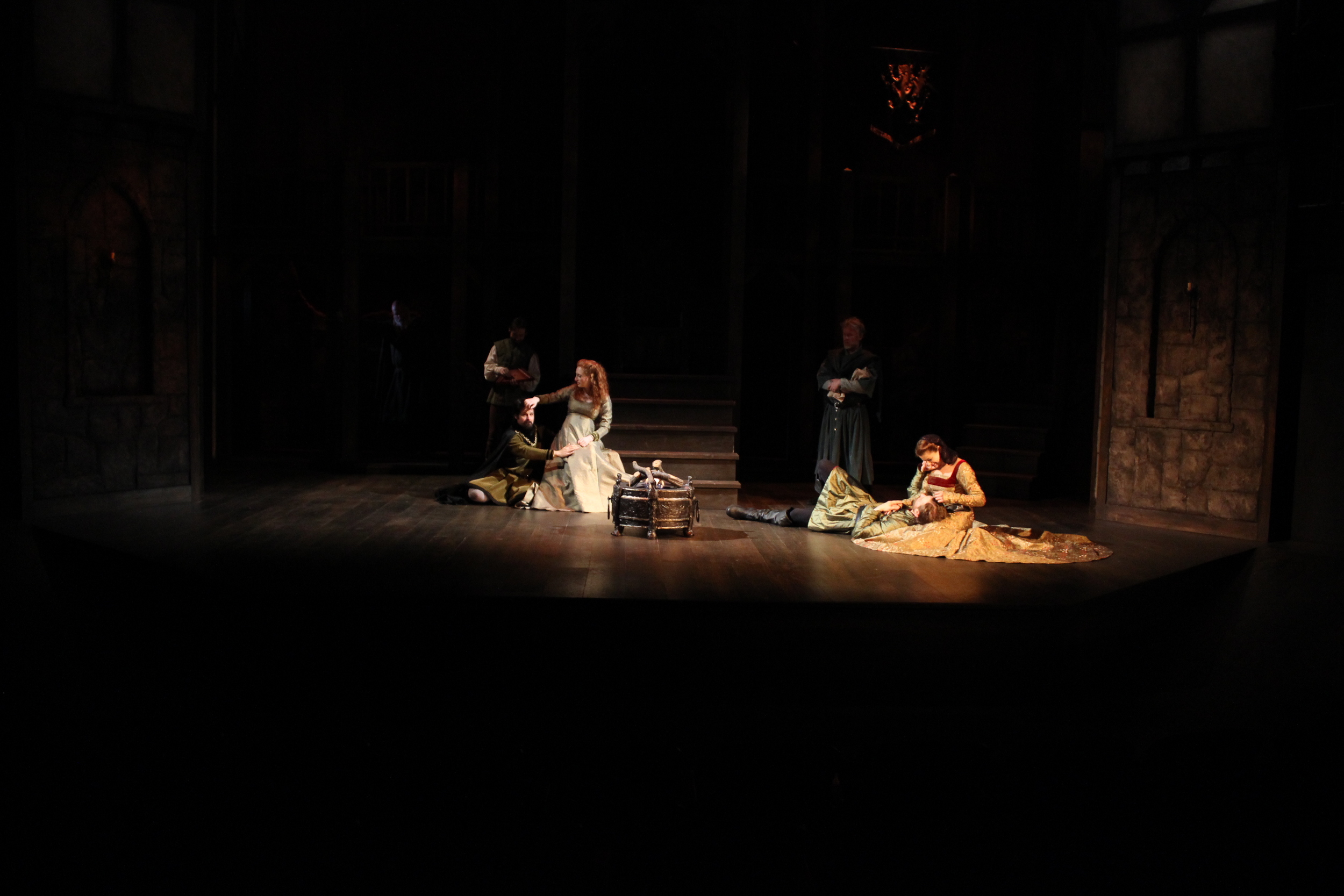 By William Shakespeare
Directed by Joseph Discher
Scenic Design by Jonathan Wentz
Lighting Design by Matthew Adelson
Costume Design by Paul Canada
Sound Design by Richard M. Dionne
Fight Choreographer: Rick Sordelet
Production Stage Manager: Kathy Snyder*
THE CAST
John Ahlin* | Sir John Falstaff
Jon Barker* | Henry "Hotspur" Percy
Glenn Beatty | Henry Percy, Earl of Northumberland
Jeffrey M. Bender* | Poins
Maxon Davis* | Archibald, Earl of Douglas
Drew Dix | Owen Glendower
Jesse Graham | Hostess of the Tavern
Robert Grant | Sir Walter Blunt
Brent Harris* | King Henry IV
Jordan Laroya | Peto
John Little | Earl of Westmoreland
Conan McCarty* | Thomas Percy, Earl of Worcester
Cliff Miller | Lord John of Lancaster
Megan Sass | Lady Mortimer
Izzie Steele | Lady Percy
Patrick Toon* | Bardolph
Doug West* | Lord Edmund Mortimer
Derek Wilson* | Prince Henry of Wales
*member Actor's Equity
THE PLAY
Henry IV, Part One was written around 1596-1597. It is part of a tetralogy known as "The Henriad," which begins with the play Richard II, in which Henry Bolingbroke (later Henry IV) usurps the British throne from the ineffectual King Richard II. It continues with the reformation of his prodigal son Prince Hal (in Henry IV, 1 & 2) and culminates with Hal's ascension to the throne, his war with and victory over France in Henry V. Though these four history plays fit together as a whole, Shakespeare also wrote them to stand alone.

Henry IV, Part One was extremely popular during Shakespeare's time. It was published in six quarto editions before its inclusion in the First Folio of 1623. Shakespeare's main historical source was Holinshed's Chronicles, but he also borrowed from The Famous Victories of Henry V, an anonymous play from 1595. Henry IV, Part One is arguably Shakespeare's best history play, presenting a powerful story of a king in the making, and introducing one of his greatest and most memorable comic characters, the witty and decadent Sir John Falstaf-- a character that so charmed Queen Elizabeth that she is said to have commissioned Shakespeare to write a play showing Falstaff in love, which Shakespeare did with The Merry Wives of Windsor.
Can no man tell me of my unthrifty son?
'Tis full three months since I did see him last.
If any plague hang over us, 'tis he.
I would to God, my lords, he might be found.
Inquire at London, 'mongst the taverns there,
For there, they say, he daily doth frequent
With unrestrained loose companions...
--Henry Bolingbroke in Richard II

As Henry IV, Part One begins, King Henry is plagued with guilt over his usurpation of the throne and the murder of his cousin, King Richard II. His kingdom is torn apart by civil strife. His son and heir to the throne, Prince Hal, is nowhere to be found. We discover the prince at the Boar's Head Tavern, running from his royal responsibilities and wasting time drinking and carousing with Sir John Falstaff and a gang of thieves. Meanwhile, King Henry's legitimacy is being hotly debated and a new rebellion brews, led by his once loyal subject Hotspur. Before all-out war, the King summons his son back to court...
THE PRODUCTION
There is something very exciting to me about presenting one of Shakespeare's best history plays as we celebrate the 50-year history of our company, and the occasion has informed my approach to Henry IV, Part One.

I do not consider myself a traditionalist Shakespeare director (though my reverence for the power in Shakespeare's words makes me somewhat of a purist), but because this production launches our milestone 50th Anniversary season, I felt a certain amount of pageantry and tradition was in order and I decided to embrace the period in which the story takes place. Shakespeare's plays are timeless, but not only because they can be set in alternate locales and time periods and accommodate modern conceits. It is because their relevance reaches out from centuries past.

Someone told me recently that the abundance of over-conceptualization and modernization currently practiced in producing Shakespeare's work make presenting his plays in their original historical period almost revolutionary. I make no claims to revolution; I just appreciate the journey that Shakespeare's text provides on its own, and feel that the actual time and place of the events in Henry IV, Part One provide the best scenario for this production, at this theater, and at this time in our history.

With those things in mind, the design team and I have taken an approach that avoids an absolute historically accurate landscape as much as a metaphorical or symbolic one. Instead, we have endeavored to combine late medieval costumes from the actual time of Henry IV, with a scenic design that emulates an Elizabethan theatre aesthetic; a unit set that provides a strong visual framework and embraces theatricality; that is capable of being in turn, powerful or neutral, colorful or utilitarian; that allows us to travel deftly from scene to scene, relies upon the actors and the text to tell the story, and asks our imagination to be an integral part of the experience.
FURTHER THOUGHTS
When I was given the opportunity to work on Henry IV, Part One, I was primarily excited about Prince Hal's journey; his plan to "imitate the sun," and his desire to prove himself. These were ideas with which I identified and what I mainly recalled from my early readings and from a production I saw at The Shakespeare Theatre of New Jersey twenty years ago.
As I worked on the script and read the play repeatedly, I fell in love with all of it. Shakespeare has woven a rich tapestry which connects every moment of the play, combining history and invented characters, blending pathos with comedy, and revealing the same complex humanity in servants and thieves as he does in knights and kings.

Unfortunately, the history plays often suffer from the stigma that they are dry and boring. People tend to feel less connected to these plays than they do to Shakespeare's tragedies and comedies. Perhaps it is because of the misconception that history plays are like dusty theatrical lectures about royalty and nobles fighting over a crown-- people whose lives are alien to ours, who lived in a time far removed from our own. Certainly Henry IV, Part One was timely for Shakespeare's audience; it touched on their concerns about legitimacy and succession, for Queen Elizabeth was aging and without an heir. But ultimately, the histories are about all of us. They are pageants of humanity. They are about struggling, dysfunctional families; fathers and sons trying to relate; husbands and wives trying to stay together; friends growing apart; and people trying to live honorably and striving for redemption.