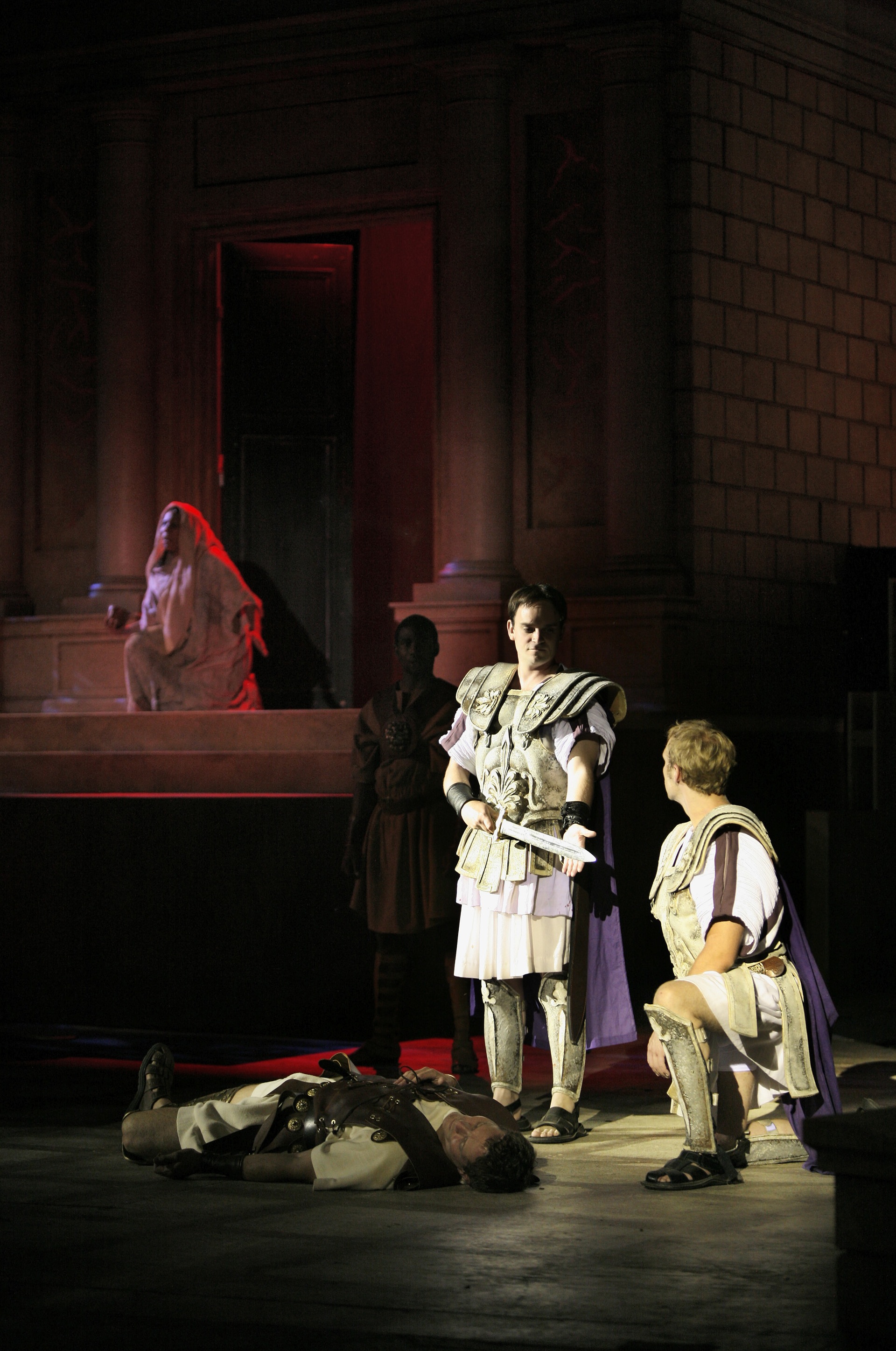 By William Shakespeare
Directed by Joseph Discher
Scenic Design by Jim Burwinkel
Lighting Design by Matthew Adelson
Costume Design by Dorothy Marshall Englis
Sound Design by Ann Slayton
Composer/Sound Effects by Robin Weatherall
Production Stage Manager - Champe Leary*
THE CAST
Gary Wayne Barker* | Trebonius, Messala, Plebeian
James Beaman* | Casca, Clitus, Plebeian
Jim Butz* | Mark Antony
Jason Cannon* | Cinna, Titinius, Plebeian
Thomasina Clarke | Soothsayer, Plebeian
William Davis, III | Lucius, Racer, Plebeian
Gary Glasgow* | Caius Ligarius, Lepidus, Cobbler, Plebeian
Christopher Harris | Pindarus, Artemidorus, Caesar's Servant, Plebeian
Krista Hoeppner* | Portia, Plebeian
Richard Lewis | Cicero, Cinna the Poet, Dardanius
David Andrew Macdonald* | Marcus Brutus
Reginald Metcalf* | Decius Brutus, Plebeian, Roman Soldier
Ryan Mills | Antony's Racer, Plebeian, Roman Soldier
Mark Mineart* | Caius Cassius
Monica Parks* | Calphurnia, Plebeian
Brian A. Peters* | Octavius Caesar, Carpenter, Plebeian
Jerome A. Russo* | Metellus Cimbe, Marullus, Plebeian, Roman Soldier
Jared Sanz-Agero | Popilius Lena, Plebeian, Roman Soldier
David M. Steckel | Flavius, Volumnius, Octavius' Servant, Plebeian
Raphael Nash Thompson* | Julius Caesar
*member Actor's Equity
The finite number of Shakespeare's plays often creates a pressure for directors to devise, and sometimes force upon Shakespeare's brilliant texts, some "ground-breaking" concept or contemporary retelling of the story. In some cases, innovations and modern conceits can shed new light on Shakespeare's work, but very often the opposite effect can occur, and the play becomes a vehicle for a director's gimmick.
You are not about to see a modern production of Julius Caesar. My aim is to let the play's timeliness call out to us from over the centuries; or perhaps I should say millennia. To witness characters from ancient times and see that we struggle with many of the same issues today is sufficiently striking without dressing Roman senators in three-piece suits. Political plays are especially topical at certain times, and Shakespeare's topicality reveals itself on its own. One need only hear Mark Antony's exhortation, "O judgment, thou are fled to brutish beasts, and men have lost their reason!" Its relevance reverberates more profoundly with every passing day.
The numbers themes to reflect upon in Julius Caesar cannot be covered in a few brief paragraphs. The nature of honor, virtue and nobility are at odds with moral ambiguity in the political arena. Change vs. Constancy (or 'status quo') and Fate vs. Freewill often drive the action of the play. Life in Rome is rife with mention of fire, blood and destruction, often intertwined. Shakespeare shows us a fantastic struggle between private morals and public ethics, and presents us with an epic quandary: what is to be done when what is right parts ways with what is necessary? And how does one make the distinction?
Most of us, though entertained by the events of the play, cannot personally identify with a conspiracy to assassinate a powerful leader. Therefore Shakespeare, always in tune with the human condition, concerned with how such events affect the individual and everyday society, connects with us o a more intimate level. Beneath everything the play addresses, there is something else woven into the fabric of the story. It is something insidious that we have all experienced at one point or another in our lives, whether faced with a minor dilemma or a major catastrophe. In Julius Caesar, it is a force whose powerful undercurrent spreads stealthily through Rome, ultimately overtaking it. It is also a word on every citizen's lips: fear. There can be no coincidence that the word is used more than any other in the play. It is both a powerful motivator and a destructive force, and when we act out of fear, the results are almost always disastrous.
Caesar says: "I rather tell thee what is to be fear'd than what I fear: for always I am Caesar." What is the next thing we are to fear? Is it terrorists? Nuclear weapons? Dirty bombs? Perhaps it is Mad Cow Disease or bird flu. It is illegal wire-tapping? Illegal immigrants? Perhaps it is misinformation, or our loss of privacy. One day it is religious fanaticism, and the next it is our world leaders. If we want things to change, what action do we take, and at what point do we take it? Who is the enemy, and how do we know? What sources do we trust to find the truth? As Cicero says: "Men may construe things after their fashion, clean from the purpose of the things themselves." He begins that line with this statement: "Indeed it is a strange-disposed time."
Indeed it is. And I cannot help but wonder where our fears will lead us.