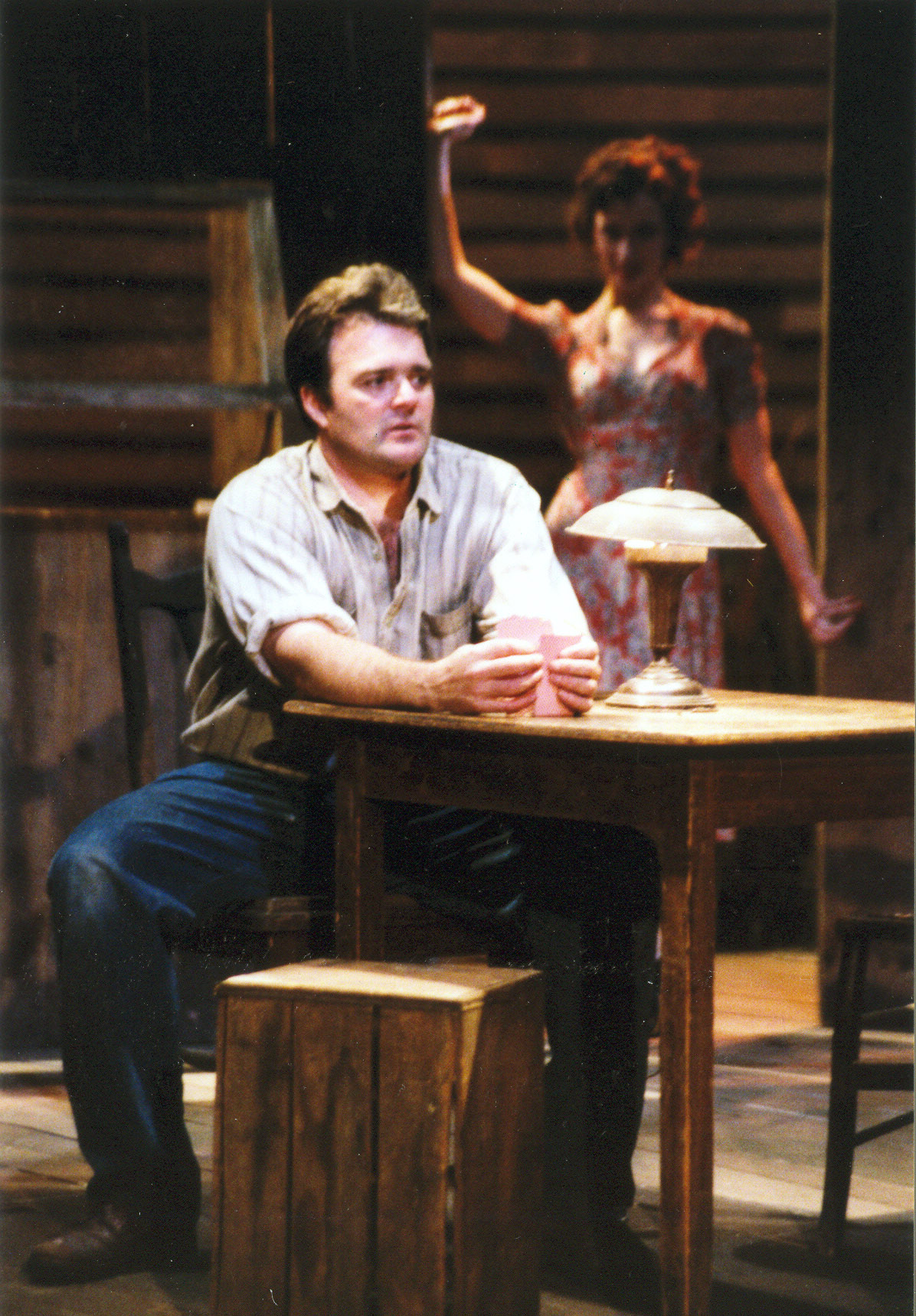 By John Steinbeck
Directed by Joseph Discher
Scenic Design by Marion Williams
Lighting Design by Matthew Adelson
Costume Design by Marion Williams
Fight Choreography by Rick Sordelet
Production Stage Manager - Brenda J. Lillie*
THE CAST
Ron Brice* | Crooks
Michael Daly* | Carlson
Mark Aden Gray* | Curley
Chris Landis | Whit
Victoria Mack* | Curley's Wife
Joe Mancuso | The Boss
Mark Mineart* | Lennie
Jim Mohr* | Candy
Paul Niebanck* | Slim
Graham Winton* | George
*member Actor's Equity
Excerpts from "To a Mouse, On Turning Her Up in Her Nest, With the Plough"
By Robert Burns, Nov. 1785
...I'm truly sorry Man's dominion
Has broken Nature's social union,
An' justifies that ill opinion,
Which makes thee startle,
At me, thy poor, earth-born companion,
An' fellow-mortal!…

But Mousie, thou are no thy-lane,
Proving foresight may be vain:
The best laid schemes o' Mice an' Men,
Gang aft agley,
An' lea'e us nought but grief an' pain,
For promis'd joy!

Still, thou art blest, compar'd wi' me!
The present only toucheth thee:
But Och! I backward cast my e'e,
On prospects drear!
An' forward, tho' I canna see,
I guess an' fear!
Excerpted from Susan Shillinglaw's introduction to Of Mice and Men. Sections of dialogue from the play inserted by Joe Discher.
John Steinbeck celebrated friendship, both in his life and in his fiction…Friendship is the most enduring relationship in his best work, a fact that places him solidly in a long tradition of American writers who send male duos into uncharted terrain. But Steinbeck's vision of camaraderie is less markedly an escape from marriage, home and commitment than an exploration of the parameters of society and self. "In every bit of honest writing in the world," he noted in a 1938 journal entry, "there is a base theme. Try to understand men. If you understand each other you will be kind to each other. Knowing a man well never leads to hate and nearly always leads to love. There are shorter means, many of them. There is writing promoting social change, writing punishing injustice, writing in celebration of heroism, but always that base theme. Try to understand each other." Steinbeck's greatness as a writer lies in his empathy for common people—their loneliness, joy, anger, and strength, their connection to places and their craving for land…
GEORGE. Some day we're gonna get the jack together and we're gonna have a little house, and a couple of acres and a cow and some pigs and…
LENNIE. And live off the fat of the land!
Of Mice and Men and Cannery Row, arguably the best of his short novels, owe much of their appeal to Steinbeck's ability to orchestrate this thematic complexity within the context of the abiding commitment between friends that is love at its highest pitch…
LENNIE. I got you to look after me…and you got me to look after you…
It is a parable about commitment, loneliness, hope and loss, drawing its power from the fact that these universal truths are grounded in the realistic context of friendship and a shared dream…
GEORGE. We'd have a little house. And a room to ourselves…and when we put in a crop, why we'd be there to take that crop up. We'd know what come of our planting.
Of Mice and Men is the middle book in Steinbeck's trilogy about agricultural labor in California. He began the manuscript in the early months of 1936, shortly after completing his impressive strike novel, In Dubious Battle, and immediately before beginning in the fall of 1936 the research that resulted in the March 1939 publication of The Grapes of Wrath, his most enduring novel about the Dust Bowl migrants in California…From 1935 to 1940 exiles from the drought-plagued Southwest poured into the Golden State, drawn by Americans' long-held conviction that the West was the promised land—the place to begin anew…
CROOKS. I seen hundreds of men come by on the road and on the ranches, bindles on their back and that same damn thing in their head. Hundreds of 'em. They come and they quit and they go on. And never a god- damn one of 'em gets it. Jus' like heaven. Everybody wants a little piece of land. And nobody gets no land.
From the 1870s until about 1930, California's wheat and fruit crops were harvested in large part by itinerant workers, mostly single men for whom roving became habitual. Some toted blanket rolls or bindles on their backs…wages were low, living quarters were squalid, and opportunities for advancement practically non-existent. Even the most resolute and ambitious worker typically met with failure and perforce took to roving…to be a farm worker was to be among California's dispossessed, a powerless, degraded, ill-paid fraternity. "It is the constant craving for human company, for friends, that is so strong among the floating class," noted researcher Frederick C. Mills in a journal kept early in the century. "Denied wives, or families, or circles of sympathetic friends, this feeling can only be partially satisfied through the institution of 'partners'. Most men hate to travel alone on the road." The isolated and rootless existence of the itinerant is the historicity that Steinbeck represents…
GEORGE. Guys like us that work on ranches is the loneliest guys in the world. They ain't got no family. They don't belong no place.
Certainly he [John Steinbeck] would have been familiar with the loneliness of the working stiff. Born in Salinas, California, in 1902, Steinbeck grew up in one of the richest agricultural valleys in California…In high school and college he worked in the fields and packing plants, listening to the stories and absorbing the speech of the working man. For nearly two years in the early 1920s after dropping out of Stanford Univeristy, he roved the California valleys, finding work on ranches owned by Spreckels Sugar, a company that controlled huge tracts throughout the Salinas Valley…indeed the episode that inspired Of Mice and Men probably occurred on one of these ranches. Working as a bindle stiff himself in the early 1920s Steinbeck saw a huge and troubled man kill a ranch foreman…
To hone in on the working man's plight, Steinbeck rewrote the scene that he had witnessed years earlier. What he saw was the clash between a troubled worker and his boss, between the powerless and the elite…a world where personal interaction was marked by instances of petty control, misunderstanding, jealousy and callousness. The political reality Steinbeck examined in Of Mice and Men, set 'a few miles south of Soledad'—Spanish for 'solitude'—is the intense loneliness and anger engendered by hopelessness…
GEORGE. I ain't got no people. I seen guys that go round on the ranches alone. That ain't no good. After a while they get mean. They get wantin' to fight all the time.
Of Mice and Men was the first book Steinbeck began with a sense of artistic independence born of personal security. It came after film rights were paid for the 1935 Tortilla Flat and In Dubious Battle became a best-seller…for Of Mice and Men he created his own genre, the play/novelette. "The work I am doing now," he wrote to his agents in April 1936, "is neither a novel nor a play, but a kind of playable novel. Written in a novel form but so scened and set that it can be played as it stands…"
The title that Steinbeck finally selected underscores the unpredictability of existence as well as its promise, Lennie and George's blasted dream to "live off the fatta the land." Taken from a Robert Burns poem, the novel's title suggests the transitory quality of even the "best laid schemes." The poem tells of an unfortunate field mouse whose home is flattened by a plow…