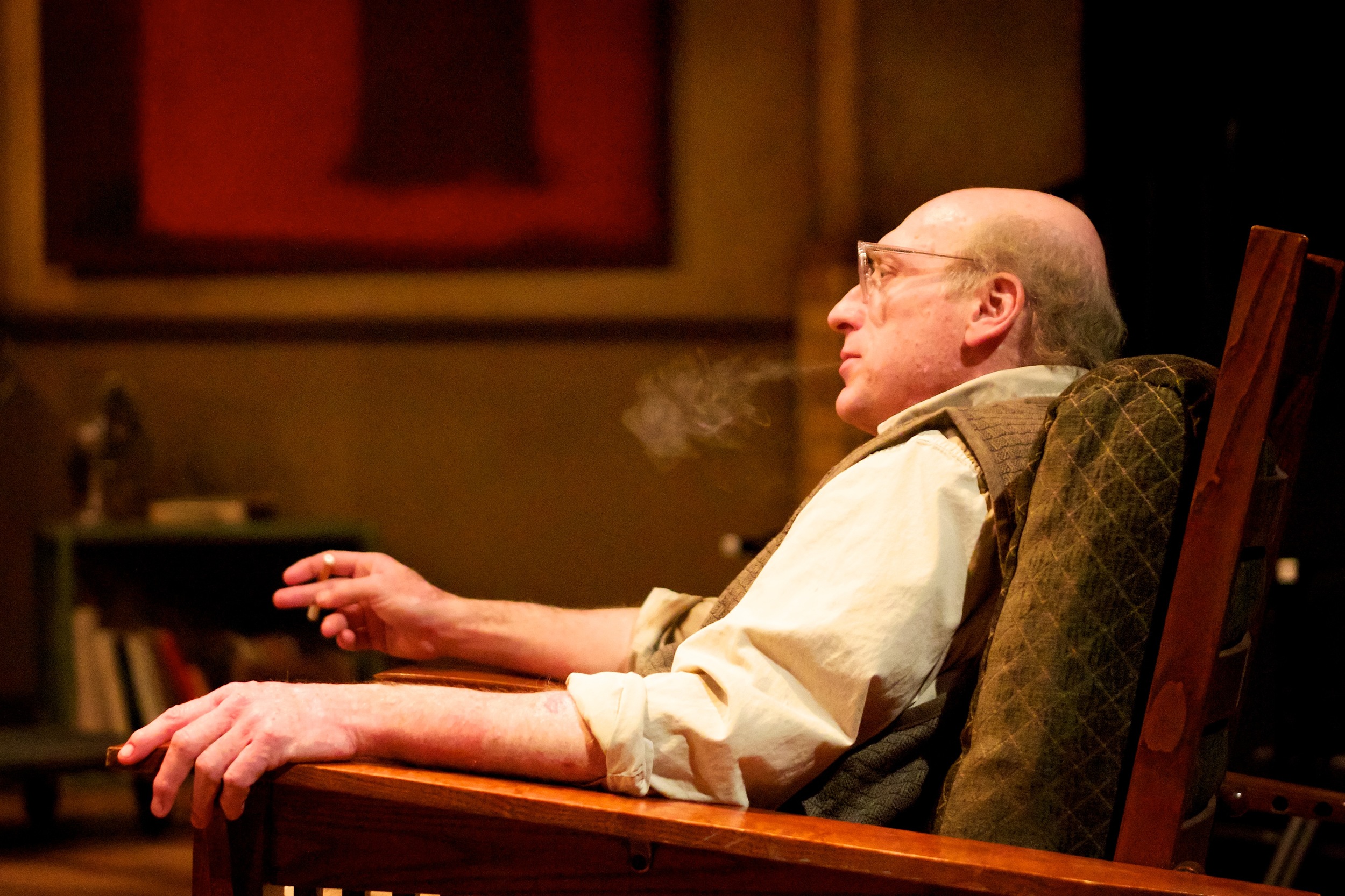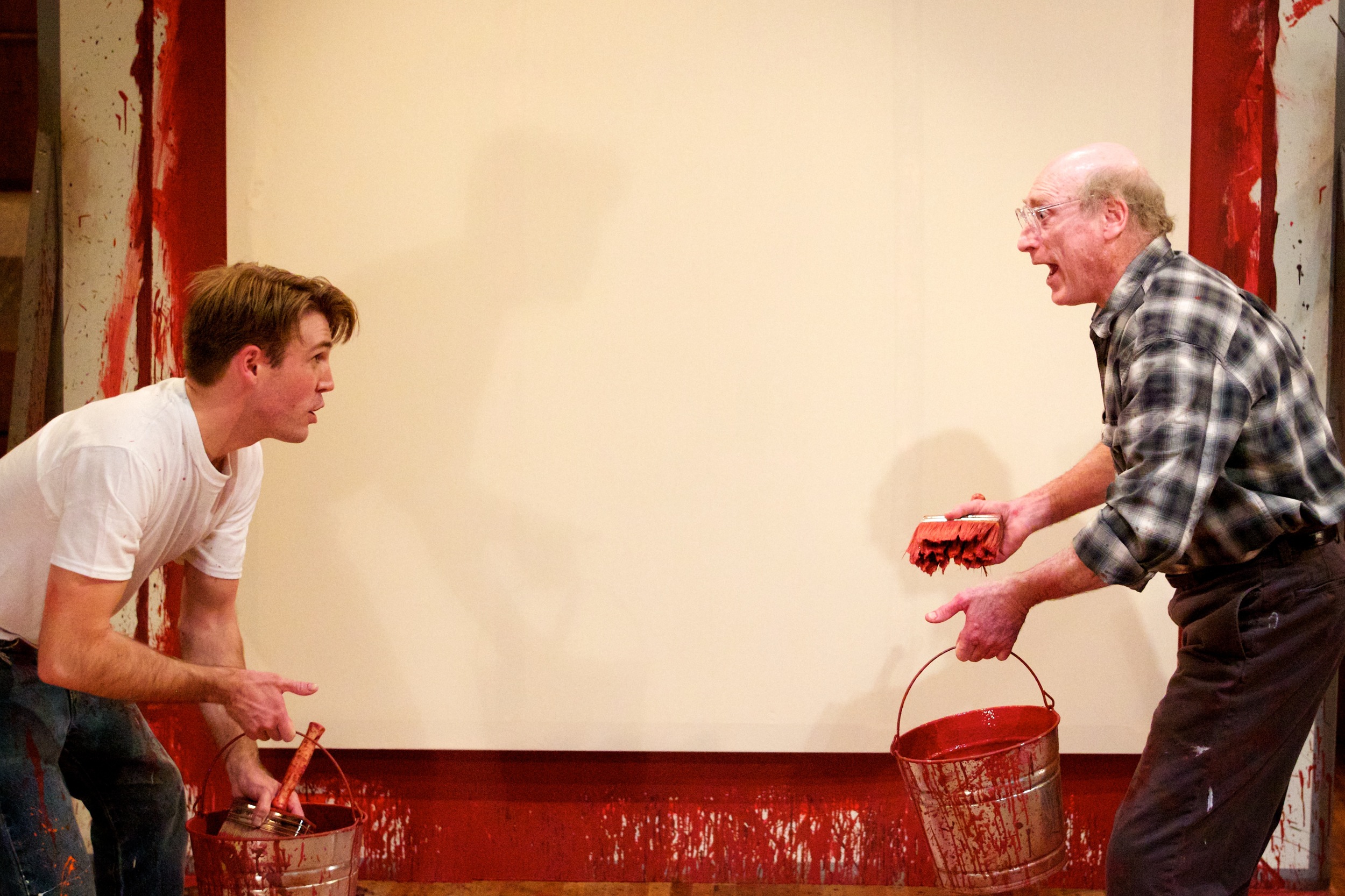 By John Logan
Directed by Joseph Discher
Scenic Design by Jonathan Wentz
Lighting Design by Matthew Adelson
Costume Design by Jan Avramov
Sound Design by Joseph Discher
Props Design by Lara Maerz
Production Stage Manager - Denise Cardarelli*
THE CAST
Joel Leffert* | Rothko
Jordan Coughtry* | Ken
*member Actor's Equity
Mark Rothko (1903-1970) immigrated to the United States from Russia at the age of 10. He attended Yale University intending to become an attorney, but dropped out and moved to New York City. there he found the desire and determination to become a painter and embarked on a difficult journey of uncompromising dedication towards making great art. As Rothko (along with fellow painter Adolph Gottlieb) wrote to the New York Times: "We believe our pictures demonstrate our aesthetic beliefs…to us, art is an adventure into a world unknown, which can only be explored by those willing to take risks…this world is fancy-free and violently opposed to common sense…We favor the simple expression of complex thought…We are for flat forms because they destroy illusion and reveal truth…"
Rothko's early work was largely ignored and he began to embrace the image of myths as an artistic language. His reputation grew, but he felt disillusioned and limited in his work and tried to reinvent himself. In the late 1940's he created a new form of painting, which transcended the need for objects and figures and became fixed on colors and layered proportions. His desire was for the viewer to see the energies that we feel--to encase in each layer of paint the emotions of joy, sorrow, doom, etc. in hopes that this would spawn a spiritual experience
Art historian Roger Lipsey called Rothko's work "one of the great spiritual realizations of twentieth-century art in any medium," and said that 'one responded to their simplicity and quietness by becoming like them." But Rothko's work was still continually questioned as to whether it should be considered high art. Art critic Robert Hughes said, "his mature paintings could be ravishingly beautiful in their depth and relationships of could," but was this "enough to constitute a major religious utterance?"
By the early 1050's Rothko was receiving the attention he had sought, and yet positive or negative, the attention tortured him. he wanted this work to be recognized and understood, yet he hated attention and abhorred his work being labeled, cauterized and commercialized. In 1958 he was offered the largest commission in the history of modern art--to create a series of murals for the Four Season restaurant in the Seagram Building designed by world-renowned architects Mies van der Rohe and Phillip Johnson. Rothko was drawn to the prestige of the commission and had long desired to incorporate his works into an architectural environment. Red examines what happened during the two-year process of creating the Seagram murals as Rothko began questioning the integrity of what he was doing.
In the first scene of Red, Mark Rothko speaks to his new assistant saying, "You will see many things here, many ingenious things." How true. John Logan's highly intelligent, taut, and visceral play pulls the viewer into the tumultuous heart of creativity.
Through the characters of Rothko and his assistant Ken, we witness an epic artistic endeavor and get a glimpse of the incredible amount of time, energy and dedication that goes into making a work of art. We are privy to profound discussions and passionate debates on the nature of art, the creative process, and many powerful themes: Emotion vs. Intellect; Order vs. Chaos; Art vs. Commercialism; Old vs. New; Dissonance vs. Harmony, as well as personal perspective, balance, tragedy, and death. We see a renowned artist grapple with a work that could either be the pinnacle of his career or his undoing, and we see a young painter find his voice.
At its core, though, any great play has something that is common to us all, no matter who we are or what we do. Any story worth knowing relates a universal human truth. And so it is with Red.
For though we may not have first-hand experience with artistic endeavors and the struggle and suffering that often accompanies them--whether writing a book, composing a song, or painting a picture--we can connect o the deepest level with what Rothko and Ken ultimately seek. Like them, we want our work and our lives to have meaning. We understand the desire to be heard, to be understood, to be recognized--and to be significant.