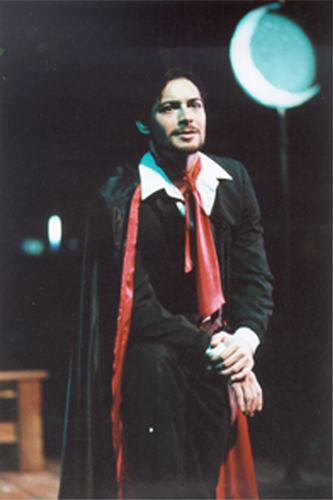 By Harvey Schmidt & Tom Jones
Directed by Joseph Discher
Scenic Design by Mary Kay Samouce
Lighting Design by Matthew J. Williams
Costume Design by Daryl A. Stone
Music Director - Jana Zielonka
Choreographer - Becky Timms
Fight Choreographer - Rick Sordelet
Production Stage Manager - Gillian Duncan*
Piano - Jana Zielonka
Percussion - Ed Taylor
Harp - Elaine Christy, Tara Ogden-Skouson
THE CAST
Paul Benedict* | Henry
Darin De Paul* | Hucklebee
Peter Parks Husovsky* | Mortimer
Greg Jackson* | The Mute
Perry Laylon Ojeda* | El Gallo
Erica Piccininni* | Luisa
Bruce Winant* | Bellomy
Jared Zeus* | Matt
*member Actor's Equity
Where does one begin when talking about The Fantasticks? It is the longest running musical in the history of not only the American theatre but also in the world, as well as the most frequently produced. Every audience member who sees The Fantasticks is contributing to theatre history and to the life of this charming musical, which first opened 41 years ago at the Sullivan Street Playhouse on May 3, 1960.
In preparing to direct this production, I began by going straight to a dictionary to get the exact definition of a word that I had previously used only as an expletive. The meaning I found was "imaginative in an unrestrained (or grotesque) way." Next, as a director beginning a journey to get to the heart of the play, I thought it best to see what the authors had to say. The words of book writer and lyricist Tom Jones proved to be an excellent starting point. What follows are some excerpts from his foreword in the thirtieth anniversary printing of the script, entitled "Trying to Remember—One Man's Recollection of the Origins of The Fantasticks."
For years…I had championed the idea of an 'open stage,' a presentational theatre which would exalt in theatrical devices rather than trying to hide them. This is what we would attempt. We would take all the things we liked about the theatre and try to throw them into a little one-act musical.
Jones acknowledges his debt to Edmond Rostand's Les Romanesques as a source of inspiration for The Fantasticks.
Into this rather mixed bag, I added Rostand's bandit Straforel, now known as El Gallo (named after a famous gypsy bullfighter). …There were many changes, of course. …[In the 1900 adaptation of Rostand's play], there is no direct address to the audience. There is no narrator, no mute, no cardboard moon. No sprinkled rain or snow. There are no old actors. There is no 'freezing' of the action. And of course there are no songs. Even the basic point is different. …The point of our version is that one must give up one's youthful illusions and romanticism and move into the season of maturity and reality.
I had just acquired a book by Harley Granville-Baker called On Dramatic Method, about how Shakespeare achieved his dramatic effects. …Images of darkness abound in Macbeth. …Images of moonlight glue A Midsummer Night's Dream together. And so forth. Subtly, without making a big deal about it, the playwright surrounds you with an interconnected web of images which inform and unify the whole. …I decided, with The Fantasticks, to use images of vegetation and the seasons as cohesive "code."
In addition to the unifying imagery, I studied Granville-Barker carefully for his analysis of Shakespeare's other "techniques"—the use of rhymed verse and blank verse and prose and couplets to close scenes, etc. And I decided to attempt to write the dialogue in various forms of verse and, further, to stop upon occasion for a spoken aria, a lyrical passage of heightened images spoken over music. There were lots of other influences. …Thornton Wilder's Our Town, with a narrator capable of stopping the action and moving us to and fro at will. The Piccolo Teatro di Milano had just been to New York with their brilliant production of Goldoni's The Servant of Two Masters, done in commedia style with a platform, and a company of actors who sat on the sidelines when not actually up on the platform stage. That had a profound impact on all of us. …John Houseman's production of A Winter's Tale at Stratford Connecticut, with its cold moon-like first act and its sundrenched second, helped guide us to our cardboard sun and moon.
…A late-forties movie called A Double Life…tells of an old actor in England who specialized in death scenes and who was so successful that the audience would cry out 'Die Again! Die Again!!' This brief mention…is the inspiration for Mortimer. It had come from the subconscious as, indeed, had come his name. Mortimer: Death.
…What we wanted: to celebrate romanticism and mock it at the same time. To touch people, and then make people laugh, and then turn the laugh around and find the other side of it, to put two emotions side by side, as close together as possible, like a chord in music.
Working on a piece of theatre that touches my heart so strongly, and is so richly infused with all the things I love about theatrical life, has been a wonder and eye-opening experience. There are many nods to Shakespeare; there is poetry, commedia influences, actors speaking with the audience and beautiful music, to name a few.
I have also enjoyed exploring the balance between the strong commedia influences and the very real, human aspect of the show, as well as examining the many themes and metaphors that run through The Fantasticks: the use of illusion in love and in theatre, the passage from innocence to maturity, and from euphoric love to a love based in reality. One of my favorite metaphors is that pruning a plant can, at the outset, seem harsh or destructive, but ultimately it promotes growth. After all, the play is also about the necessary trials we endure and the harsh realities we encounter that make us value what we have, and hopefully, make us a little stronger. "Without a hurt the heart is hollow."
Although I had been reading and listening to it for several months, the first time I saw the play was at the Sullivan Street Playhouse on September 14 of this year. It was the cast's first performance after the horrific events of September 11. The tickets has been bought in advance for my birthday, and although Bonnie Monte and I considered not going, we decided that in some way it was our duty to head into Manhattan. I will never forget how quiet it was that evening in New York, and I will never forget the singing of "Try to Remember."