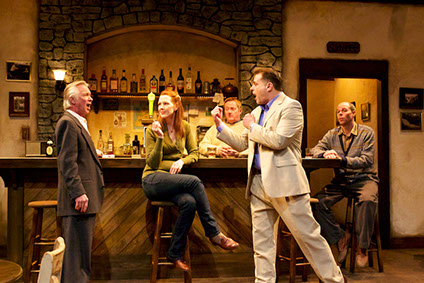 By Conor McPherson
Directed by Joseph Discher
Scenic Design by Jonathan Wentz
Lighting Design by Matthew Adelson
Costume Design by Jan Avramov
Sound Design by Alex Ruhlin
Production Stage Manager - Denise Cardarelli*
THE CAST
Michael Augenstein | Jack
Joe Discher* | Finbar
Mandy Olsen* | Valerie
Andy Sturt | Brendan
Patrick Toon* | Jim
*member Actor's Equity
My first exposure to The Weir was seeing it on Broadway in 1999. It did not grab me. I was surprised, because it had received high praise and the cast was full of first-rate actors from the London production at the Donmar Warehouse. But last year, when I was asked to direct the play, I read the script and made a point of seeing the Off-Broadway revival, this time, in the intimate setting of The Irish Repertory Theatre. I was instantly transported into the delicately crafted world McPherson created, with its complex friendships, finely woven stories, and haunting, both natural and supernatural. I became excited to direct the play and equally excited bringing it to life in this intimate space for you tonight.
From its unassuming opening moments, Conor McPherson steadily weaves a spell that draws us into the lives of the denizens of a small Irish pub, and the town's new resident. He takes us on a beautifully devious ride through loss, loneliness, fear, regret, and ultimately delivers us from the darkness of those human experiences with the light of companionship and compassion. We may not have personal experience with the trials facing the characters in The Weir, but we have all encountered these feelings in one form or another and we understand what it is to feel helpless and alone in the midst of them.
The need for company--for companionship--is basic to our existence. The history of the word "companionship" teaches us that food (or in The Weir, drink) is the fuel of relationships. The word companion, from the Latin com, with and panis, bread, reminds us that food and the brief respite allotted to people throughout history for sharing meals feeds more than the physical body; it also nourishes generosity and friendship. To eat (or drink) with someone implies a level of comfort with that person.
We have moved beyond the literal meaning of companionship to a concept that has more to do with just being together, which is what the theatre is all about--coming together for a communal experience. Tonight we share a story. We share the things we have in common that make us human. And that sense of companionship is the antidote for the loss, loneliness and regret that are a part of any life. We see proof of this as the frequenters of the pub reveal what haunts them. And we can know it for ourselves.
What haunts you? A past transgression or failure? A road not taken? The loss of a loved one? Whatever it is, know that you can bring it to the pub tonight. The lads will buy you a pint and tell you some stories. They'll listen, and be glad to have you.
Cheers. Good luck.