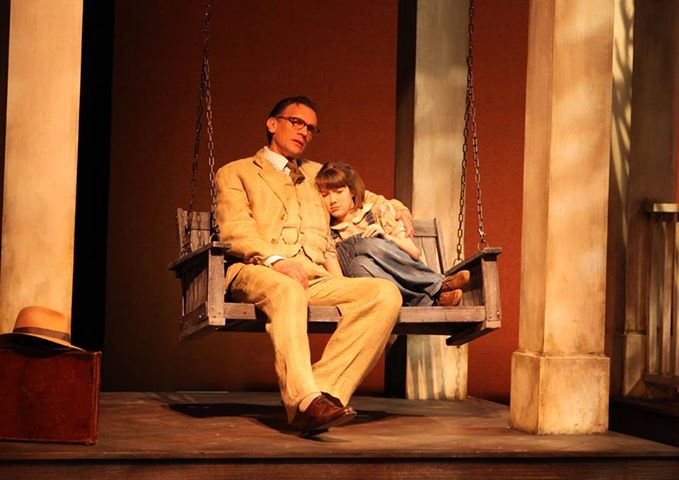 By Harper Lee
Adapted by Christopher Sergel
Directed by Joseph Discher
Scenic Design by Anita Tripathi Easterling
Lighting Design by Matthew Adelson
Costume Design by Maggie Dick
Sound Design by Steven L. Beckel
Fight Choreographer: Rick Sordelet
Production Stage Manager: Amanda Michaels*
THE CAST
Jake Berger | Arthur "Boo" Radley
Ray Fisher | Tom Robinson
Eileen Glenn | Miss Stephanie Crawford
Ethan Haberfield* | Dill
Brent Harris* | Atticus Finch
Alexis Hyatt | Mayella Ewell
Marjorie Johnson* | Calpurnia
Conan McCarty* | Bob Ewell
Don Meehan* | Nathan Radley, Mr. Cunningham
Rocio Mendez | Helen Robinson
Emmanuelle Nadeau | Scout Finch
Chase Newhart* | Judge Taylor
James Michael Reilly* | Heck Tate
Eric Rolland | Mr. Gilmer
Frankie Seratch | Jem Finch
Maureen Silliman* | Ms. Maudie Atkinson
Ben Sterling | Court Clerk
Nisi Stergis* | Jean Louis Finch
Allan Walker | Reverend Sykes
Jean Walker | Mrs. Dubose
*member Actor's Equity
Exploring To Kill a Mockingbird has affected me more deeply and moved me more profoundly than any other play on which I have worked. There is something to be learned from every moment. Harper Lee's coming-of-age story of compassion and bravery has charmed me, surprised me, humbled me, and inspired me. I know I can speak for the cast when I say that we have encountered Harper Lee's moving and singular voice at every turn in the process and in every scene of the stage adaptation--so much so that it has been a challenge to hone in on which specific thoughts to share about the production in this limited space.
Where does one begin when commenting on To Kill a Mockingbird itself--a work that even the author declined to comment on for decades? Everyone can relate to the store in one way or another because of the ground it covers: childhood, class status, intolerance, conscience, race, injustice, fatherhood, friendship, love, and courage. Its themes are powerful and perfectly interwoven into a heart-breaking "tapestry." While rehearsing the play, we have embraced the themes which drive both the action of the play and its characters: Youth and Innocence; Racial Injustice; Morality; Compassion and Forgiveness; Justice and Judgement--and stepping back from this tapestry, found one theme which takes them all under its wing: Perspective.
At its core, the store is about changing one's perspective--whether in regard to race, to one's neighbor, or even about family. It is only in changing our perspectives that we grow as individuals, and in turn, as a community. If we consider things from another's point of view, stand in someone else's shoes or climb into their skin, we move toward compassion, we deepen our morality, we exercise better judgment, and we let go of our prejudice against others because of their beliefs, the color of their skin, or just because they are not like us.
If we could all learn this "simple trick" that Harper Lee sets forth through the courageous stance taken by Atticus Finch, we would be continually operating from a place of compassion and the world would be a better place.
Nelle Harper Lee was born on April 28, 1926 in Monroeville, Alabama. Lee's father was a lawyer, like the character of Atticus Finch, and she spent a good deal of time watching her father try cases. She developed an interest in English literature at Monroe County High School and attended Huntingdon College in Montgomery before transferring to the University of Alabama at Tuscaloosa. She continued to pursue her interest in writing and contributed to the school's newspaper and its humor magazine, the Rammer Jammer, for which she became editor. In her junior year, she was accepted into the University's law school. The demands of her law studies forced her to leave her post as editor of the Rammer Jammer, and after her first year in the law program, Lee began expressing to her family that writing was her true calling. Soon after, she abandoned her law studies and moved to New York City to follow her dream.
Lee arrived in New York City in 1949 at the age of 23 and struggled for several years working as an airline ticket agent. While in the city, she became close friends with Broadway composer and lyricist Michael Brown and his wife Joy. After writing several stories, she secured an agent in November 1956, but was frustrated that she could not devote herself to writing full-time. The following month she received a gift of a year's wages from the Browns with a note: "You have one year off from your job to write whatever you please. Merry Christmas." Lee quit her job and devoted herself to her craft. Within a year, she had a first draft of To Kill a Mockingbird. It was published in 1960 just before the peak of the American civil rights movement. The novel was instantly successful, winning the Pulitzer Prize. It has since become one of the most widely-read books in the modern American canon.
Harper Lee has never published another book. Moreover, she has done nothing to publicize Mockingbird in over 45 years. She has received numerous honorary degrees and other distinctions including the 2007 Presidential Medal of Freedom, but has always declined to speak publicly about her work.
In a 2011 interview with the Daily Telegraph, Lee's close friend Rev. Dr. Thomas Lane Butts said that Lee told him why she never wrote again: "Two reasons: one, I wouldn't go through the pressure and publicity I went through with To Kill a Mockingbird for any amount of money. Second, I have said what I wanted to say and I will not say it again."